Life is Short… Feel Your Best
In these uncertain times, we all have questions on how we can lead a healthier life and feel our best. That's why two physicians created the Journey 2 Health program to help you change your life. Watch your Journey 2 Health lessons AND talk with a certified health coach during your free 30 day trial period. Take positive steps towards better health today!
Access the Secrets 2 Health videos with our founders, Dr. Joe Jenkins and Dr. William Lawson.
Experience personalized wellness coaching from a certified health coach with a free 20-minute call.
Learn what COVID-19 has taught us and know you're taking steps in the right direction towards your wellness goals.
Lose weight, manage stress, reverse chronic disease, and so much more.
---
Hit play on feeling your best while the rest of the world is hitting pause.
Your Personal Health Coach: Mandy Tumulty
Coach Mandy is passionate about helping you live your best life with vitality, health and joy! At a quick glance, you might not think you have much in common with Coach Mandy. She is an experienced health and wellness coach certified by the Functional Medicine Coaching Academy and the National Board for Health and Wellness Coaching with over 20 years experience supporting organizations to achieve their goals. Yet, Coach Mandy believes that we can all become healthy inside and out and live a life full of purpose. Taking a holistic, person-centered approach, Mandy helps you realize your best self by supporting you in making lifestyle changes that help you feel great so you can live your best life! Let's get started on your action plan today!
As a J2H member, you will work with Coach Mandy who knows how to help support you to become the best version of yourself using an integrative health approach, along with self-care practices and positive lifestyle changes. Integrative health does not just focus on your diet or exercise routine. This is not simply about weight management. We take a look at the whole person, including your mental health, and focus on lasting behavior change. A healthy lifestyle is not out of reach. Are you ready to create your action plan?
---
Testimonials
"The personalized coaching was really the key to my success."
— Journey 2 Health client
"Other programs are just out there selling, but this is much more personal."
— Journey 2 Health client
---
The Journey 2 Health Program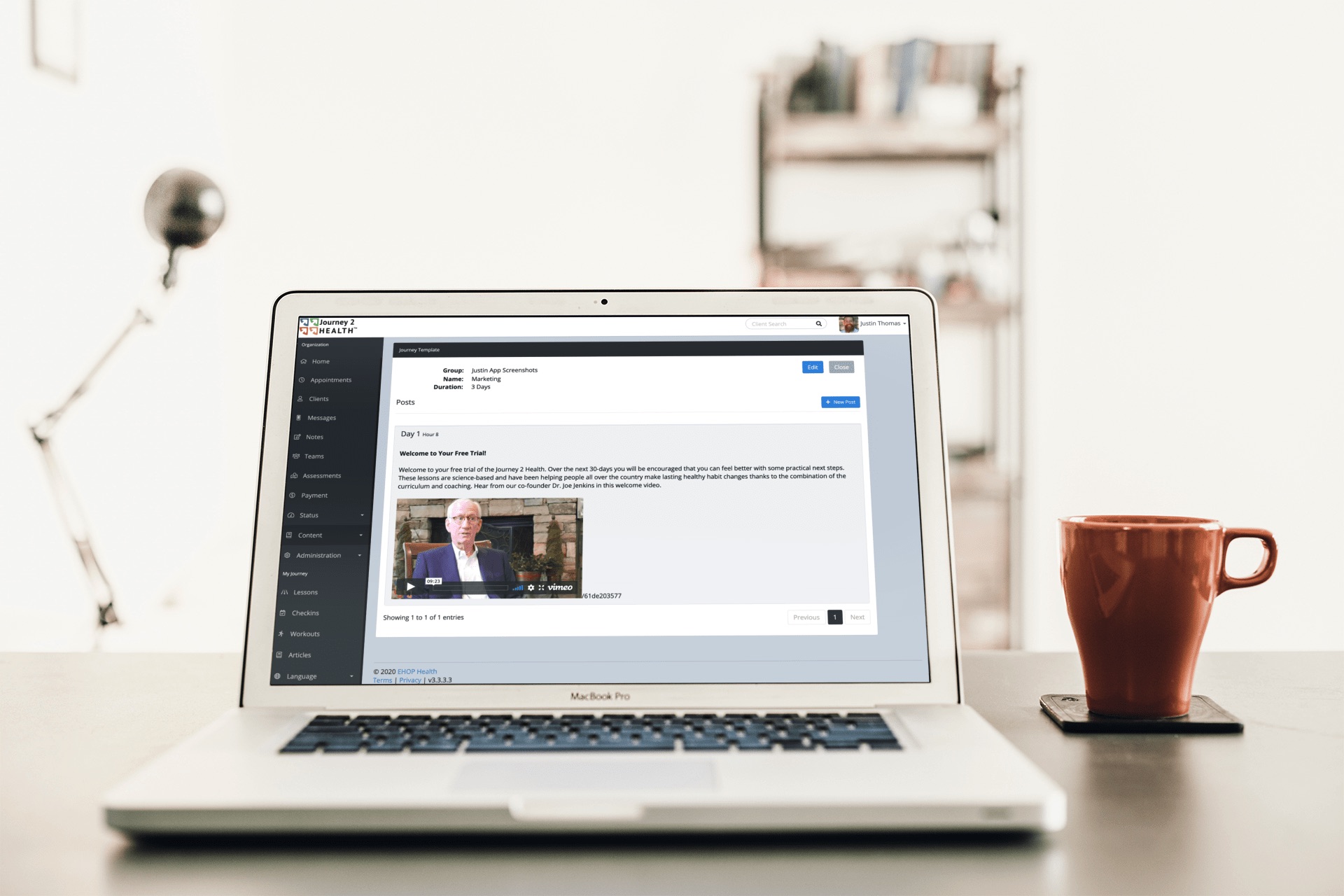 Free for 30 days, cancel at any time
Comprehensive 12-month online journey with Eat Well, Move Well, and Live Well topics
Daily checkins and workouts help you stay on track
$14.99/mo after your 30-day trial period
Free trial includes one coaching session
Additional coaching sessions available for purchase
Start Your Journey
Coached Journey

Free 30-day trial
Comprehensive online curriculum delivered to your phone or inbox
Online messaging with your health coach
Enjoy a 30-min introductory session with your coach.
Additional coaching sessions available at affordable prices