Life is Short… Feel Your Best
In these uncertain times, we all have questions on how we can lead a healthier life and feel our best. That's why two physicians created the Journey 2 Health program to help you change your life. Watch your Journey 2 Health lessons AND talk with a certified health coach during your free 30 day trial period. Take positive steps towards better health today!
Access the Secrets 2 Health videos with our founders, Dr. Joe Jenkins and Dr. William Lawson.
Experience personalized wellness coaching from a certified health coach with a free 20-minute call.
Learn what COVID-19 has taught us and know you're taking steps in the right direction towards your wellness goals.
Lose weight, manage stress, reverse chronic disease, and so much more.
---
Hit play on feeling your best while the rest of the world is hitting pause.
Your Personal Health Coach: Rebecca Arsena
I describe myself as a "recovering perfectionist". I spent decades fearing failure and being stressed out and anxious 24/7 which resulted in a long list of physical symptoms and illnesses. I knew there had to be a better way to live. Three years ago I began my journey as a Certified Health Coach and haven't looked back.


I have found the courage to live a more balanced life, realizing that self care is not selfish and it's OK to ask for help. I enjoy helping others explore their vision of optimal wellness and partnering with them on their journey to acheive their goals.
As a J2H member, you will work with Coach Rebecca who knows how to help support you to become the best version of yourself using an integrative health approach, along with self-care practices and positive lifestyle changes. Integrative health does not just focus on your diet or exercise routine. This is not simply about weight management. We take a look at the whole person, including your mental health, and focus on lasting behavior change. A healthy lifestyle is not out of reach. Are you ready to create your action plan?
---
Testimonials
"The personalized coaching was really the key to my success."
— Journey 2 Health client
"Other programs are just out there selling, but this is much more personal."
— Journey 2 Health client
---
The Journey 2 Health Program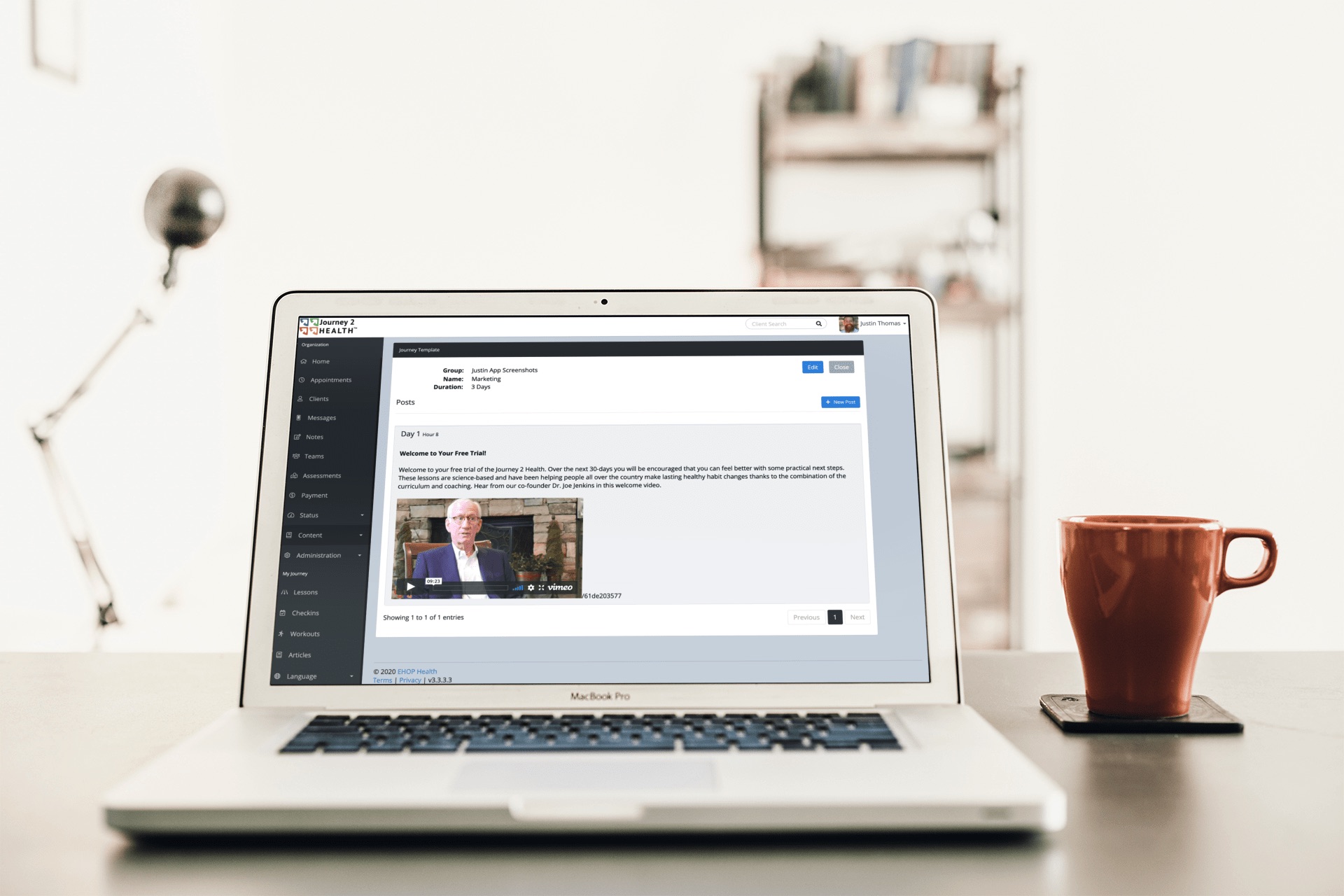 Free for 30 days, cancel at any time
Comprehensive 12-month online journey with Eat Well, Move Well, and Live Well topics
Daily checkins and workouts help you stay on track
$14.99/mo after your 30-day trial period
Free trial includes one coaching session
Additional coaching sessions available for purchase
Start Your Journey
Coached Journey

Free 30-day trial
Comprehensive online curriculum delivered to your phone or inbox
Online messaging with your health coach
Enjoy a 30-min introductory session with your coach.
Additional coaching sessions available at affordable prices